Lianne from BuhayKuneho showed me a couple of interesting pictures today. At first glance, they can be mistaken for the latest gadgets you can find in any gadget geekery site. The photo below looks like a modern iPod dock (but maybe that's just me). Anyhoots, as we're a food blog, you've probably already figured out that it's not related to Apple or their products. This one's a modern-day coffee maker.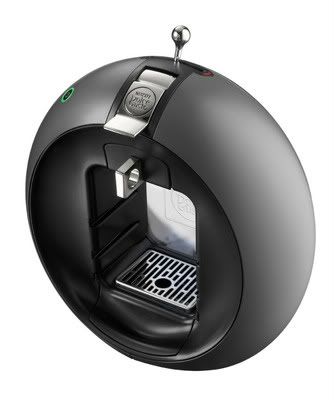 Read about this shiny looking piece of equipment over at BuhayKuneho.com. They have an excellent review up on their site. Here's an exerpt-
The Nescafe Dolce Gusto has finally hit Philippine shores, right on the heels of its release in the other Asian coffee-loving regions of Japan and Hong Kong. These adorable little gadgets promise to revolutionize the way caffeine junkies such as myself take their drug of choice, and to do it in style. Click here to read the full post on BuhayKuneho.com.
I personally wouldn't mind having  the cute penguin-shaped one in the review called Picolo (nope, not this or this).
The following two tabs change content below.
Mel is a developer by day, a couch potato by night, and a bacon lover at all times. She likes good noms, cute puppies, the color orange, and all things bacon. You may contact her at
admin@bacontunamelt.com
or anywhere via this blog.
Latest posts by bacontunamelt (see all)
FB Comments
comments